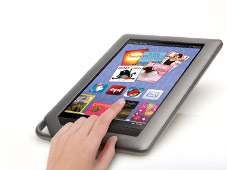 The all new Nook Color now with Apps!!!
Eric and I are pleased to offer this item for our next giveaway. Our Kindle giveaway was super successful and we hope that the Nook will do even better. If you do not know much about this item, you can click

here
to look at all of the features. It has Wi-Fi, apps, long battery life, etc... I daresay that this is better than a Kindle!!
How to Enter
*This giveaway runs from June 1 - June 14
It starts at 12:00 a.m. on June 1st and ends at 11:59 p.m. on June 14th.
* Make a donation to our personal Paypal account located on the left-hand side of our blog (the Paypal button under the heading "Donations for Immediate Adoption Expenses"). We are using our Paypal so we can track who is making donations. Otherwise we have to hound Reece's Rainbow for a donor list. Donations to our personal Paypal are not tax-deductible.
*The more you donate, the more opportunities you have to win!
*You can add to your chances by publicizing our giveaway on your blog, Facebook, and Twitter.
*Sharing on Facebook = 1 extra entry
*Sharing on Twitter = 1 extra entry
*Sharing on your blog = 1 extra entry
*If you grab Dima's Reece's Rainbow button and put it on the side of your blog
(located on the left-hand side of this blog- it has his picture)
= 5 extra entries!!!
*For any of the extra entries to count, however, you must make at least a $5.00 donation. You must also leave a comment on this entry with a link to your Facebook, Twitter, or blog so I can verify. Otherwise it will not count.
Thank you for your participation and good luck!!!!